20 Day Music Challenge (Day 18)
December 22nd, 2014 
Hep!
How's it all going?! Today, of all days, work has re-started again officially. As in I've gotten work during the holidays… I know, RIGHT?! Plus, next week, I'm gonna start SCHOOL again!? WHO ELSE IS STRESSED?! I am. That's right, I am. But STAHP, let's ignore it and start with Day 18 of our 20 Days Challenge!
Day 18 – A song that makes you dance
That's… also difficult. WHY, WHY MUST YOU DO THIS TO ME?! It's more because I don't know how to dance than anything. It would be easy to answer this with: Any Just Dance songs that I have.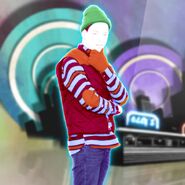 A song that I love dancing to is… Troublemaker by… no, not Hyungseung (BEAST) and HyunA (4Minute) [although I must say that I do like that song, even if I didn't necessarily like the MV, but I don't think I would be able to dance to it much…], no. It's by Olly Murs feat. Flo Rida, on Just Dance 2014, it's pretty good! I like the moves, they're easy for my klutzy self to dance and get a good score on!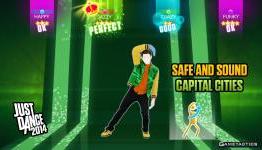 I also like Safe and Sound by Capital Cities and it comes from the same game (Just Dance 2014). There's something funny about the song, the beat and especially the moves. I also love how throughout the songs, we've "impersonated" much more 'avatars' than in other songs [in my opinion anyway].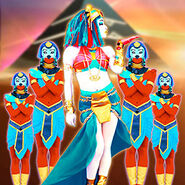 I really like Dark Horse by Katy Perry from the new game, Just Dance 2015, which I tried out very recently [two or three days ago, to be exact, and while there are features that are lacking, overall, I'm enjoying it]! Surprisingly so, because I'd only heard news and rumors about the song and the MV, but I'd never listened to the song, nor watched said Official Music Video in full. Leafeon told me that the moves and a lot of things are similar to the official music video, and that's also really interesting!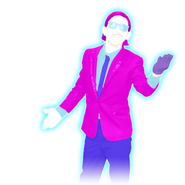 Last but not least [also there are SO MANY songs that I can talk about], due to its funky moves, its beat [not its lyrics because I've yet to research those], and its overall very hilarious choreography, is We No Speak Americano by Yolanda Be Cool and D-CUP (Hit The Electro Beat). It comes from Just Dance 4 and there are so many things I love about it. I absolutely like the fun music and the color scheme used for that one [I mean, anything that's pink/purple, seriously]. It's so brilliantly done and so funny to dance with [and easy to dance to, as well, even though I'll say this: if you're not careful, your arms will hurt] when you're with other people, seriously, try it out the MOMENT that you can! 
---
Well, that's it for my Day 18, hopefully, I've given enough here to sort of make up for the lack of songs mentioned in my previous and later posts!
Maybe there's a JUST DANCE 30 day challenge, that one, I can do!!
Until tomorrow, of course, please be awesome and take care of yourselves!
Ponyta's out ( ̄ー ̄?)…..??eehhh??