30 Day Book Challenge (Day 1)
December 1rst, 2015
Hey there everybody!
How is it all coming along? Oh yeah! HAPPY NEW YEAR!! I wish you all happiness and surprises (if you're into that, if you're not, like me, then I wish you a good routine) throughout this new year!
I'm doing well, I survived Nanowrimo 2015, and I'm really happy, even though I ended it with a super huge headache… and all that… anyways, Munchlax [here's her blog] challenged me to this Book Challenge, and then, I challenge you, Bayleef [here's a link to her blog, in case you wanna find out what she's written] and also, I would like to challenge Mewtwo [here's a link to her blog as well]! So here goes!
Day 1: Best Book You Read Last Year 
It is with a headache but: "I'm done for #nanowrimo this year!" Fun run, everybody! Let's do this again next year?xD pic.twitter.com/4l3MfDVTUQ

— XxPonytaorponyboyxX (@PonyboyorPonyta) December 1, 2015
//platform.twitter.com/widgets.js
All right, at first, when Munchlax talked to me about this, I thought she was talking about the Book Reading Challenge on Goodreads. Do you have a Goodreads account? Or do you participate in the yearly book reading challenge? ADD ME [link here]! [I mean no… what…] How many books will you be reading in the year 2016? Since 2015, it was 50 novels, I'm thinking of doing the same… or maybe 75 novels… we'll have to see! Anyways, it turns out that it wasn't, and here is the challenge for you lazy bums who don't want to look it up online, haha. As I've said above, the first day reads: "Best Book you've read last year".
Since this post is scheduled for January 2016, does that mean last year: 2015? Or since I'm writing this in December 2015, does it mean last year: 2014? Also, WHY do I have to choose ONLY ONE?! What if I read PLENTY of great novels/books throughout the year?! What do I do then [you already know that I'm quite an easy "grader" when it comes to… a lot of things that I review [oops, Shameless Plug right here]]? Can I cheat and give you my top 5 of each year? Yeah I'm going to cheat.
Last note before I truly start: if you are interested in looking at the book from the Goodreads website, just click on the image and TA-DA you'll be directed to it [that's how nice I am].
---
Here's my top 5 for the year 2014 [please note that they're in no particular order]:
The first novel I'd like to talk about is probably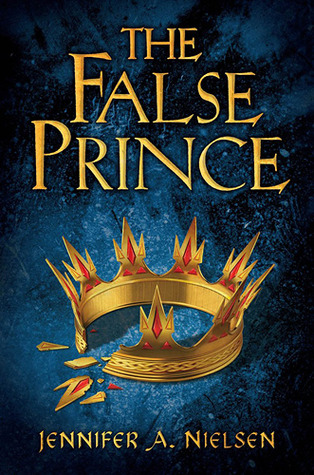 The False Prince written by Jennifer A. Nielsen. It's the first novel of the Ascendance Trilogy. And since I rated all three books with 5/5 stars, it figures that it'll make it in this list. I really liked the snarky main character, Sage, and the way he tells the story [I mean, the first few lines immediately hooked my attention. If that's not good writing, I don't know what is (but then again, it's really easy to grab my attention: good humour does the trick really well)] – as well as the way he slowly reveals to us his mysterious character and the way he remembers his past. The first book did him justice quite well. It made such an impact on me that I even recommended it to both Jirachi and Piplup when we met up in December 2014 [how do I even remember these weird details?!]. The whole intrigue and premise also had its appeal, as well as the characteristic shounen part of the romance that is built up throughout the three novels of the series [I'm all in it for the romance, as you can see, ahahhaa]. I think out of all the 2014 books I've chosen, this is also a book that has a male main character, but also is not necessarily a fairy tale retelling. There's not a lot of them in my lists, but it's here.
Princess Ben by Catherine Gilbert Murdock is the second book in the 2014 series. There is no 'sequel' to this book, however, Wisdom's Kiss [link here] is set in the same universe? I haven't read it, but it does seem interesting. While the rushed ending disappointed me a little bit, the journey that Princess Ben, a rather intrepid young lady who has for only family now that her parents were murdered, her aunt, Queen Sophia, who's not treating her the way she would've liked, and it's quite suspicious. I really liked her chemistry [as you read this, you'll find that I put a lot of emphasis on chemistry. I like chemistry between characters. It makes the story that much more entertaining to read, don't you think?] with the Prince [it didn't happen too often, though, so that's a bummer], too, and the way the magic of the mountain had an important role in her story. What was the best about this story was definitely the way she evolved as a character, and as a Princess, evolving in the way that she sees and interacts with the people around her. I actually wrote a full-on review on my review blog, if you'd like to read it.
The first book of the series of the same name, Peter and the Starcatchers by Dave Barry and Ridley Pearson is next on this list of books. I think this is one of the only books out of all 10 novels chosen for this list, where a boy is the main character [and I think this is the only book with men as authors sorry not sorry that I'm so sexist?]. It could well be a Peter Pan retelling [mixed in with a little bit of Pirates of the Caribbeans (the movie, since, again, I didn't read the book)], although I wouldn't be able to know, because I only know the Disney version of the character and story, not the original story. I very much liked the idea/concept that Molly and her father are starcatchers and that starcatchers are a secret society who protect the world from the evil influence of the starstuff. I also really liked the characters and the chemistry between Molly and Peter, and the way the authors tied in the Lost Boys to Peter. I even really liked the rendition of Captain Hook – Black Stache, in this retelling, it was really quite funny to hear his take in certain chapters. I can't wait to read the sequels!
When I was in high school – or in elementary school, seriously, I have such a worthless memory, I read this pretty good book:
Nobody's Princess by Esther Friesner. I never touched it again, but then, after I opened my Goodreads account, I found out that there'd been a sequel to this Helen of Troy retold story [from the Ancient Greek Mythology], and after I found the book at my local library again, I couldn't help but devour Nobody's Prize. Helen of Sparta isn't the brainless Helen of Troy that you've heard in the stories – okay, I just assumed she was not very witty since she agreed to leave with Paris and basically started the whole Trojan War thing, so this is just my assumption from when I was a kid studying the myths. The Spartan Princess sets on a journey, dressed up as a boy – a la Mulan – and joins the Argo, on the Quest of the Golden Fleece. Of course, she can't go alone. She has her trusty friend Milo with her, and meets various Greek heroes from the myths. It's a very nicely written story, and of course, it's always very good to have a warrior princess as a main character. Something that irked me was the fact that Helen's beauty drove men crazy, even as she dressed up as a boy. It makes sense, considering that wars were started because of her, but I still dislike it. It's good though that she doesn't seek to make use of it? Or she should've? I don't know… I'm still conflicted about it. There were a couple of things that irked me other than that – as you can read from my Goodreads review there – but I still consider this one of the better novels I've read in 2014.
The fifth book of this series is going to be
Beauty Sleep: a Retelling of Sleeping Beauty by Cameron Dokey from the Once Upon a Time book series. I've read a lot of stories from that series over the years, but this one is going to be one of my favourite ones read this last year 2014. I really liked the strong-willed and stubborn Aurora, who doesn't want to endanger her people and decides to run away before she pricks herself and falls asleep, like the original Sleeping Beauty does. I also really liked Ironheart as well as Oswald, the other characters that even now, in 2015, I remember. Something I didn't like was the whole idea of placing two potential love interests. I have been struggling with the idea [because okay, I started shipping this person with that person, but then I started shipping this person with another person when the first ship didn't pan out, and then I have to struggle because I accepted one ship over another and then the other ship happens?! I mean, with Cameron Dokey, I should never expect less, she usually does this with her novels], but I'm all right with it, mostly because she tied things up in an all right manner at the end. I really liked the build up to the final and trademark moments in the Sleeping Beauty original tale, though, that was really nicely done and added. It made me lose sleep if I recall, and squeal and not be able to continue reading for awhile because I wanted to bask in the brilliance of it all.
---
Here's my top 5 for the year 2015 [please note that they're in no particular order]: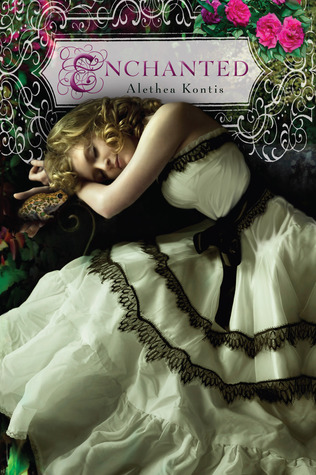 First up is Enchanted by Alethea Kontis, the first book of a series called Woodcutter Sisters. So far there's only three novels out – as of the writing of this post anyway – but I really enjoyed the first book and I'm looking forward to reading the rest. Each book will be about one of the seven Woodcutter sisters, hence the naming of the series. This first book talks about the seventh, the youngest daughter, named Sunday. I'll never cease to say it: I love fairy tale retellings and Alethea Kontis did a great job with this one. I wanted to review the series on my review blog once I finished reading the whole series… we'll see. I saw this because: you guessed it: this is a fairy tale retelling. Spoilers: it has the frog prince in it, and many other tales inter-woven within the story. I love that this first novel alludes to the many other stories and the world-building was pretty well-done (so far anyway). Not only that, but the chemistry between the main leads are always noteworthy and always something I look forward to reading through. I definitely would recommend this to anyone who loves fairy tale retellings – but then again, as Charmander recently pointed out to me, even though she likes fairy tale retellings, she might not like it. So beware of what I recommend, it might not be for everyone!
The next book I'd like to present to you is [again: reminder that this is in no order, I could like one better than I like the next one, or vice versa, I don't know]: 
The Darkest Part of the Forest by Holly Black, I don't think there's a series with this, but then again, I can't be sure, since the book was published this year 2015. I really liked this book because not only did it present a diversified cast of characters (okay, mostly by diversified, I mean sexual orientation-wise, which is important to me because it's a first in the books that I've read (I think? I have a really bad memory)), but the characters were not as standard as they are in many books of the same genre. Potential spoilers here: Hazel is not your typical girl, she aspires to be a knight and has the will to become one. Meanwhile, her brother – who, in the norm, would have been classified as a knight, actually decides to become a bard, because of his gift/curse from the Fae. End of spoilers. Let's also talk about the Fae, the concept that Fairy Folk are not always as nice – being mischievous and sometimes downright evil, even – as in Fairy Tales isn't new, but it's also not always explored – at least in the books that I've been reading (apart from the anthologies and encyclopedias that I used to binge-read in the local library), so this is also a concept that I found very interesting to look into. I also like the way that this book really tied all of its endings together! This is the reason why I don't think there will be a series. It's a good standalone.
The third novel I want to share is: 
Dealing with Dragons, by Patricia C. Wrede, whom I used to read when I was in elementary school or high school.. or CEGEP, if I recall. This is the first book of the Enchanted Forest Chronicles, of which I've read two novels. I really love the way this is a great parody of many fairy tales and even Greek Mythology, for those of you who can be good enough to spot it! I love the characters but mostly Ciromene, who is a princess who isn't like any of the other princesses in her world (and these princesses, let me tell you, are somewhat like the standard damsels-in-distress archetypes that we're so tired of – or not, sometimes, I just love reading about those princesses, but mostly because they prove to me that they're not just damsels in distress, though). Even better, this isn't really a romance novel – at least not at the beginning, since she then discovers the one she'd like to marry only in the second novel – this is a novel about a princess who befriends an intelligent dragon, and who meets quirky characters along the way and creates her own path as a princess, even going as far as chasing off the suitors who come to 'rescue' her from the dragoness. It's a really hilarious concept and I do recommend this! I'm looking forward to reading the rest of her series!
Second-to-last book, I promise!
This is Cinder, by Marissa Meyer, a book recommended to me by Jolteon, if I recall. This is the first book of the Lunar Chronicles, all of which I've read this year 2015. Since I finished the whole series, I'm thinking of actually writing a review on that, so… look forward to it? Haha. Anyways, I really liked the first book because though the writing style does not please everyone (Mewtwo and Jolteon are examples of people who didn't enjoy the writing as much). A story that inspires itself off of Sailor Moon and is a fairy tale retelling of Cinderella? Sign me up! I really liked the chemistry between the main characters, even though we don't get to see them interact all that much [they still did better at developing their story and their attraction to each other than falling in love at first sight? Although I guess there's a little bit of that, too, if I recall – I even read this twice – once in ebook and another one listening to the audiobook in order to prepare for the final novel of the series, and my emotions were still the same about the chemistry], even Munchlax noted on it as she read – so far, that is, I don't even know if she's done reading. Cinderella is a cyborg and a brilliant mechanic! The concept is so win, no one can convince me otherwise! I don't always like space-based stories, but this one was quite great, along with the other books, although they varied in ratings.
The last book that I choose for the year 2015 is Rump: The True Story of Rumpelstiltskin by Liesl Shurtliff. As you can guess from the title, it's a retelling of the Rumpelstiltskin fairy tale, and it's an entirely different take on the whole tale, and the Rumpelstiltskin character [oh would you look at that, this is the only book in 2015 that has a boy as a main character, I'm so sorry for the lack of diversity here, but I do rather enjoy female main characters]. On Goodreads, it's not written that there's a series on them, but Liesl Shurtliff's author page shows that she's written two other books about character who appear in this novel as well, and I cannot wait to start reading them – as soon as Red comes out. I like that this main character is so different from his Once Upon a Time ABC TV series counterpart [not to be confused with the Once upon a Time book series I talked about earlier], he's not a coward – although, well… you'll have to see about that – and he's got so many problems, but still overcomes all of them. I really like his character development and the way he creates his friendships with other people. Again, this world-building based on multiple fairy tales is always a win for me. 
---
All right, so that's it out of me for today!
I hope you enjoyed it! Maybe it was too wordy,
but you should know better than to expect less out of me!
I'll see you all for Day 2!

 Ponyta's out