30 Day Book Challenge (Day 3)
December 3rd, 2015 
Hey there everybody!
How is this new year treating you? I really, really hope that it's been going well and that it's not too cold outside by the time this post hits. Then again, I want it to be cold: that way, it means that nature is still running its course, however wobbly. Oh and hey, I really, really want that my headache disappears by the time this post hits the blog. Anyways, this day marks the 3rd day of our 30-day book challenge, so let's get started, I have tons of posts to prepare:
Day 3: Your favourite series
Hmm… that's a very good question…
---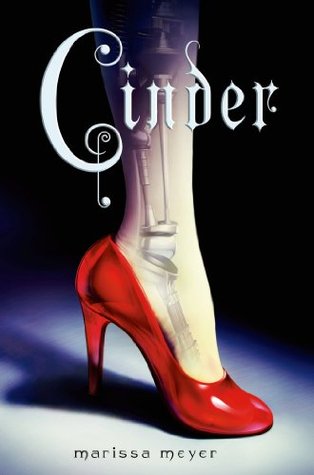 I guess the Lunar Chronicles by Marissa Meyer is an example of a series I really liked. Enough, in fact, that I re-read the series in audio format right before the last book, Winter [it was an all right build-up to an all-right ending], came out. It had been suggested to me by many people, including Jolteon, and, as you know from my writing about it often enough during this monthly challenge (although I don't know if by this time you'll know, because I'm a zig-zagger, as I told Munchlax), I really 'dug' the concept and the writing, even though it's somewhat simplistic or downright not Mewtwo's or Jolteon's cup of tea. There's just a certain sense of nostalgia when it comes to reading things that remind me of Sailor Moon and fairy tales, I guess. 
Back then and even now, I just really like fairy tales, which is why the next series is not going to come in as a surprise either, at least I hope it won't be. 
---
The Tales of the Frog Princess by E.D. Baker (one of my favourite authors) come next, although this list has no particular order to it – you'll have to get used to it. I devoured the entire series one week during the summer vacations, when I was in either elementary school or high school. I just love the quirky way in which she developed her characters [the way, as you will find out during this month, I guess, since I've already written it, princesses are not the perfect princesses that they used to make back in the day, I like the difference, haha], and the way she wrapped things up by the end of the series.
I think that I came across this book series even before the Princess and the Frog movie from Disney came out. If you asked me to tell you whether I prefer E.D. Baker's rendition of the tale or Disney's, I wouldn't be able to tell you which I like the best. It's because I like the chemistry between both princesses with their "princes". I like that we got to see more of their relationship and that we even see them when they are older, when they're adults, in E.D. Baker's series. Meanwhile, we get to see a different version of the story, and in a different and much more modern time. Both stories work pretty well, although I gotta say, the Princess and the Frog idea was somewhat different, since the Frog was supposed to get the golden ball and all that. In terms of how well it was rendered, maybe E.D. Baker's since it resembled the fairy tale, but I still loved both.
---
Those are fairy tale-based stories, and they're all with women protagonists, I should probably give you at least one that I like with male protagonists. You already heard this from me [or rather I've already written about it before], but 
The Ascendance Trilogy by Jennifer A. Nielsen, with The False Prince, is also a series I love. I've written plenty about this story already [in multiple blog posts from this book challenge that you'll see or maybe even that you HAVE seen], but I just really love the characters [mostly Imogen and Sage and the other characters, obviously] and the way it's written in Sage's point of view [because he's so snarky and funny. His sense of humour is something I love]. I can't say more mostly because I'll annoy the heck out of you from that, ahaha.
This one isn't really fairy tale-based, but there are princes, and kings, and kingdoms to save, and wars, which is really ironic because I don't like violence all that much. There isn't much magic in this one, if I recall, but I do recommend it if you like funny characters in a serious setting.
---
All right, I can tell you're tired of listening to me ramble on.
What are your favourite series? Do you think I would enjoy them?
Comment them down below!
See you later!

 Ponyta's out!