30 Day Book Challenge (Day 6)
January 1rst, 2015
Happy [belated] new year?
Well, that's mostly because I'm writing this on such a day! I hope you're doing well, everybody! Have you been working on your new year's resolutions [if you're into making those, that is… mine would be… writing more, and I think I've been increasing my writing quota by much last year already, so… maybe I'll review these resolutions later on…]?
Day 6: A book that makes you sad
Hmm.. I'm pretty sure I've spoken about this particular book already, but Le Dernier Vol de l'Engoulevent by Francine Allard is going to be one of the books that will still always make me cry, that counts as a book making you sad, right? or are we talking about books that make you sad because they're so badly written? If you want that one, go look at the days that prompts: "disappointment" and "overrated", I think those are pretty good at making me sad, too, but for a different reason than Le Dernier Vol de l'Engoulevent (yes, it's a French book) does, [I know this because even when I'm thinking about it, it makes this ice-stone-heart twinge], despite:
1) not owning the physical copy of the book [I know, I checked… but you know what, I should go and acquire it… *goes on Amazon and various other websites*]
2) not having read it in awhile [I read it when I first moved over here on the South Shore, about… ahh… back in the years of 1999-2000 (holy moly, so it's been about 16 years now… man I'm getting old), so maybe that's why the feels are happening when I'm thinking about this particular book].
That's right, despite my incredibly bad memory, you have me remembering such a sad book about amnesia and grief at a family member's passing.
I guess that the feels are restarting again because, just like Charles, a few years later after reading this book, I actually lost my grandfather as well…
…everything's fine…
I'm… I'm sort of over it. As much as someone being over something can be…? It depends on how you see someone's passing over, too.
---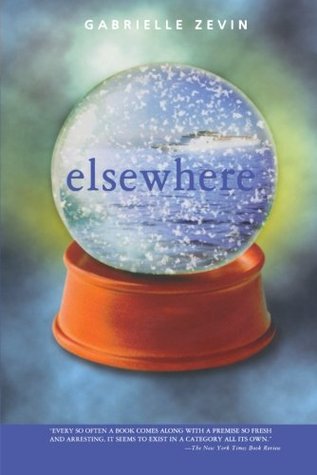 *wipes away tear* I've just thought of another book that made me pretty sad: Elsewhere by Gabrielle Zevin [there will be spoilers please, please PLEASE beware, if you don't want to get spoiled. I mean, this was published in 2007, but yes, there will be spoilers]. Out of all the posts that I've already written, this is the first time that I've thought about Elsewhere, and I guess it's because it makes me sad, and that it deals with what would happen after death. I think I read this when I was in University – or during my years in CEGEP [it was at the local library to me, and I think that I was around 17-19 when it came out, so that would make sense], and when I finished reading this, I was really quite sad, basically because it deals with grief, and moving on, in a different way that you would think. Not only that, but Liz Hall – okay, she's 15 years old, so please be careful when reading this, you might want to roll your eyes a lot and stuff – has to learn how to live backwards (or in reverse) now, as she basically goes to from being 15 years old to 14, etc. until she's reborn. It was the first time I'd read something that has such a concept, and it was quite refreshing but also really sad. I shipped her with this one character so badly and yet, well, because of the very concept of the story, they can't end up together. I like to imagine what happens next, but it's frustrating that they never get to truly know.
---
Before I leave, another book that's worth mentioning that made me cry would be… The Book Thief by Markus Zusak, but I won't elaborate more because I've already talked about it in other posts!
---
Okay, I'm going to end it at this,
and go to bed soon…
Take good care of yourselves!

 Ponyout!