30 Day Book Challenge (Day 16)
January 1rst, 2015
Greetings, everybody!
How's it all coming along? We are on day 16 of this book challenge, and wow, I feel like I repeated myself so much already. I'm probably going to be repeating myself a lot more in the later days as well, so you'll have to forgive me. Let's start:
Day 16: Favourite female character
Oh. Wow. Okay. What makes me like female characters? What makes you like characters?! They need to be badass, smart… and while they can use their feminine traits, I guess I rather characters who can rely without it, for some reason
[because Mireille Calmel's Lady Pirate's main character really traumatized me… although maybe it's her weird taste in men and her distorted sense of priorities that made me feel weird, or maybe I'm just… traumatized with originally French writing… I didn't used to write these kinds of things, why are there authors who just… write about it…? And don't get me wrong: I'm not basing this off of the fact that I've only read that one book, and over-exaggerate what the female characters are like in these French books. To this, I say that I've read Bonheur d'Occasion, by Gabrielle Roy and even Maina by Dominique Demers, and all of them were pretty… well my definition of vulgar anyway].
---
I guess an example of a female character that I really liked would be…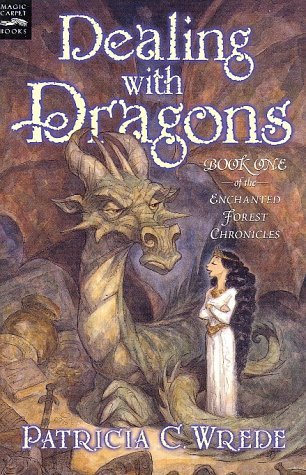 Princess Ciromene from Dealing with Dragons by Patricia C. Wrede. I guess it's because she's such a strong character that she's not scared of doing the chores for a dragon, and she's so strong of character that she can come up to it/her/him and ask for a job and a sort of contract to stay with her. Not only that, but she is such a strong, smart character [with good sense of priorities, not that ladies can't go on adventures when they're pregnant, Lady Pirate, it's just that what you choose to do during those adventures aren't the best things to have chosen…?] that she doesn't need the dragon in order to take care of her suitors: she can do all of that on her own, even going as far as facing them with her own magic or swordswomanship. Like I said and like I'm going to say every time you see a Dealing with Dragons tag, I like Princess Ciromene because she's so unlike other princesses. It's a story about how she can break the stereotype of the blonde-good-behaviour-but-no-skill Princesses that we see in many "classical" tales.
Can we really qualify these as "stereotypes" now, if so many books [and movies, let's be honest, so many movies have been doing a good job at that doing that, too. And yes, I'm one of those people who would argue that the Princesses movies we've been having are pretty unique in their own genres… although I will also freely admit that it's still a… learning process for these movie creators? Like how certain movies share glaring similarities] make such a good writing job at presenting us with different princesses [just look at my Fairy-Tale shelf and make sure you don't take a book that also appears on the does-not-recommend shelf, I think you'll find there are many Princesses in there that are defying the tropes of the damsel in distress princesses. And I love it.], both strong and flawed? I guess so, I guess so.
In the same line of thought, I can also add The Wide-Awake Princess or The Frog Princess, both by E.D. Baker, but I won't elaborate because I feel like I've done that plenty of times already, and that the reasons why I enjoyed Princess Annie's thoughts [and Emeralda's] and their narrations so much are very much similar to the way I enjoyed Princess Ciromene's journey.
---
Another strong female character that I thoroughly enjoyed would be 
Howl's Moving Castle's Sophie, by Diana Wynne Jones. She's strong, but perhaps not in the sense where she can lift three cars. No, no, no, no. Well… maybe she could… who knows… [I mean she's pretty magically strong… right?]? I guess I just love Sophie so very much, because of her journey in this book especially… basically her discovering herself, or her choosing her own identity? I'm not sure if it makes sense, but if you've read it, I think you'd understand? There may be spoilers here, so be careful: she basically becomes so much surer of herself throughout what she'd lived [I mean, I guess you would too, if you had lived with Howl as she had…], and she is much more assertive in the end than she is in the beginning. The character development was brilliant, I really loved it!
I guess a third female character (or fourth, if you count Princess Annie) that I liked could be… maybe Maya from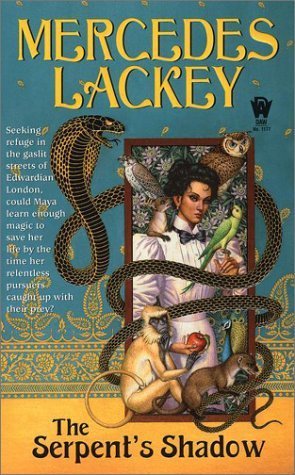 The Serpent's Shadow by Mercedes Lackey from the series called: Elemental Masters. It's been awhile since I read Elemental Masters… I think I used to read it either back in my later high school years, or in my CEGEP years, in the summer [I'm more and more sure that it was between CEGEP and University, but…]. This was one of the first books that I've read of Mercedes Lackey, having no idea that this one was the second installment of its series [although as I recall, the stories are only very loosely tied together and some characters do come back… not only that, but it's also very much based off of a fairy tale retelling]. I guess, if we count Sophie from Howl's Moving Castle, we could say that another reason why she's over here is because Maya is someone who can use Earthen magic, which is quite pure and different from the way that her London [future] associates do it. Her romance also helped, I guess… man, I have to go back and re-read this story, I think it is my favourite one out of her "Elemental Masters" series.
---
All righties, I hope that's all right?
There are so many more female characters that I absolutely love…!!
See you all tomorrow!

 Ponyta's out