30 Day Book Challenge (Day 19)
December 30th, 2015 
Allo there, everybody!
How's it going? So, for some reason, I still haven't finished writing all of these down, so I don't think that I'll be wasting your time and mine writing tons and tons of words for these posts, I apologize if you wanted some more…?
Day 19: Favourite book turned into a movie
Please let me explain this post… 
Okay, I don't think that I've read many books that got turned into a movie, so that's pretty bad already.
I know Harry Potter [by J.K. Rowling], but I don't really like all of the books, so no? Also I didn't even finish watching the movies, since I don't care for the later books [a.k.a. after book 3] as much at all. However, the concepts were pretty good, since I was already very much interested in witches, wizards, and magic.
Percy Jackson and the Olympians [by Rick Riordan]? But then I haven't watched the movie and I didn't even finish reading the series… because the later books were meh, although I will admit this: I'm planning to continue reading the series, since I have an inkling that Rick Riordan's series all will cross over at some point… because that's how awesome that is.
Twilight [by Stephenie Meyer]?? But that's definitely not my favourite book… [I promise to you, that even tagging this post with Twilight and posting these things even make me look like Jessica Jones is right now]!!! I talk about it on Day 29 anyway, so I think that's all… I didn't even finish the movie series, and I probably never will, haha. Besides, I'm really disappointed that the author decided to post a fanfiction of her own series, making genderbent characters but keeping the same story? Just because you're going to celebrate for the story's anniversary? Well, if it's a good book for people, then yeah, sure, great. Please don't make a movie out of it, though? Unless it's a better [unlikely] story than Twilight? Either way, I'm pretty sure sure if I don't want to try reading the new book.
Lord of the Rings [by J.R.R. Tolkien]? The problem with this one is that while I watched the movies, I didn't even read the book (didn't have the courage to read the books)…
Hunger Games [by Suzanne Collins]? But I didn't finish watching the series, and I'm not even interested in them, because I didn't enjoy reading the last two novels of the trilogy [THAT'S 2/3! 2 OVER 3 BOOKS that I didn't like].
…Dang. that's tough… and I'm pretty sure there's more, too…
---
All right, I will choose Percy Jackson and the Olympians. I didn't watch the movie, though, so that must tell you how I am as a fan of this series by Rick Riordan. Specifically, I loved the Lightning Thief specifically, because this was one of the first series that I read that talked about Greek Mythology.
If you don't know me, then I should tell you: I spent hours and hours at the local library one summer reading through all of their books pertaining Greek Mythology – maybe not the adult versions of the tales, and I was obsessed. I guess it's because it's a different religion, maybe it's because the tales were somewhat entertaining, but nevertheless, I spent tons and tons of time on those books.
Lo and behold, this series shows up in my high school (I think it was in high school, yeah, since I was about 16 years old) library. While the first book doesn't explain how Athena, Goddess of Wisdom and War (and many other things 'cause that's how cool she is), can have children, the later series really does explain it well. I love the fact that the book made the readers relate well to Percy and his friends.
Do you have an irrational fear of spiders? Well you might be related to Athena, since Arachnia never forgave Athena for transforming her into a spider.
Do you have dyslexia? Well, maybe you're a demi-god or demi-goddess who has been used to reading Ancient Greek texts rather than our alphabet.
Do you have difficulties sitting down for long? Do you need to be doing things with your hands? Do you fidget? Well, that's good, maybe it's because, as a demi-god or demi-goddess, your body is used to the adrenaline and being alert for danger.
As an educator, I find that this series makes you relate well to Percy, not only because he has two of these, but he already has a great narrating voice. It's great for children who have learning difficulties and other!! These heroes have flaws that everyone can have. That's good. As a teenager reading this, I really enjoyed the tone and the way the series made a twist on demi-gods and the Gods/Goddesses of Ancient Greece. I really enjoyed reading it and I cannot remember why I stopped reading it, haha. Yes, I'll probably read it again…!!
---
Since the first book was narrated by a boy – young man, rather, I'm sorry – then I should probably take some time and find some kind of book with a lady as a narrator, or main character, right?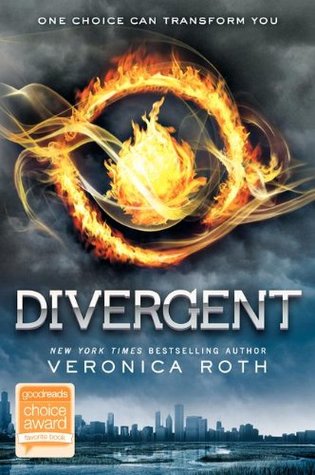 Another one that I've enjoyed would probably be Divergent, by Veronica Roth. I was working in a day camp, and while I was reading another book – I'm really not sure of what I was reading, actually – one of the camp counselors suggested that I should read Divergent if I like Hunger Games – but I hadn't read the latter book, although dystopian stories interested me a lot already, so I gave this story a go. The concept of the factions and the idea that everyone prioritizes different things: Abnegation [selflessness], Erudite [knowledge], Dauntless [courage], Amity [peace], and Candor [honesty]. Of course, we find out that people can have either one of those, or many of these. These people, we would call Divergent, but what happens to this one girl when she finds out that divergents are being hunted down and killed by their society?
I actually watched the movie with Leafeon, too, because she had had this book which she had to analyze for class. She also had to make a comparison and contrast with the movie, which is why I treated her to the movies after work that day. It was really quite entertaining. I even finished reading the books – although I didn't finish watching the movies – I think I didn't even watch Insurgent or Allegiant, but the last book was so sad that I'm really not sure if I'm going to watch the movie…?
I mean, I know the movie and the books have their flaws [I mean, CinemaSins make tons of videos, especially this one by the Divergent and there's also Screen Junkies hat did Honest Trailer video about it], but then again, I already read the book, so I understand more of the things than the CinemaSins guy, haha. However, I still found the novels quite interesting, haha. It's true: she is more decisive than Katniss from Hunger Games and much smarter than Bella Swan.
---
All righties, so that's all out of me!
See you all later!
Have a great day!

 Ponyta's out