30 Day Book Challenge (Day 24)
December 31rst, 2015 
Greetings from the past, people!
How are you all doing? We're on the 24th day of the year 2016! I hope that we're all doing all right! Meanwhile, my toes are freezing, but… let's not think about it, for fear that we'll be going through a blackout and talk about Day 24 book challenge prompt:
Day 24: A book that you wish more people would've read
Wow, well, let's see… the books that I read, sometimes, not many people on my Goodreads list of friends have read at all. It's hilarious, so yes, I wish more of these people would read.
For example: The Wide-Awake Princess by E.D. Baker. People, you need to understand how amazing this book is (actually, if you've followed me for all 24 days, you should have decided that I'm obsessed with it, haha), all right? But then again, now that I've spent all these 24 days just talking about the same book, I wonder if I was just too enchanted by it. Would I have the same reaction and same love of the story if I read this book this year 2016 when I continue the series? Am I exaggerating my thoughts about this book, or something? And is that why no one reads it? Because it's really not that great, except me? No-no, I'm pretty sure I would still love the book, and I still like E.D. Baker's style, since a few years after reading The Wide-Awake Princess, I read the Frog Princess, which was also a book that I enjoyed greatly!
Another book that I'll talk about before leaving will probably be… well, there's so many books that I've read, but that not many people that I know have read, that I don't know what books can and will qualify for this day prompt…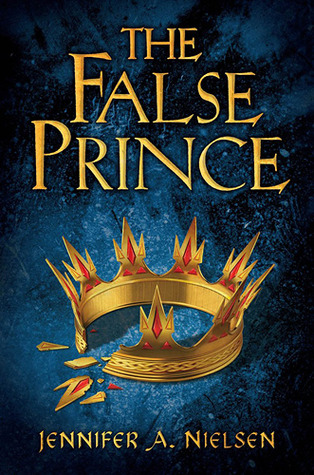 Not only that, but my friends don't always read books either, and we have different taste in books. For example, Munchlax seems to prefer horror-related books, and up until later this year (2015), Bayleef was telling me that she only reads "classics", so there you go, we have different taste in books… Anyways… I'll write: The False Prince, by Jennifer A. Nielsen for today. I'm pretty sure that we already have many posts about this [and I want to apologize for the number of posts this gets, it's… it's normal, it's totally normal: I just really want you guys to read the book, hahaha… and boy oh boy, if this gets a movie, I'd… be really upset if they mess it up]. I just… I just like this so much, all right?! This book is really cool and awesome, for a book that has a boy as a main protagonist [I don't really care about whether or not the main protagonists' genders are, I think… am I being sexist by saying that…? maybe]. I really mostly only love the way that the narrator's voice was portrayed. I just… man I miss this series. I can't wait to look at Jennifer A. Nielsen's other books. It's going to be so awesome.
---
All right, with all that being said,
I'll just leave you all and work on other posts!
See you all tomorrow!

 Ponyout!