30 Day Book Challenge (Day 26)
January 1rst, 2016 
Hi there, all!
How's it all going? So, we're pretty far in 2016 already! 26 days in! That's pretty impressive! I hope nothing bad happened and only good things occurred to all of us! POSITIVE! PEACE! LOVE! All right, so… let's see:
Day 26: A book that changed your opinion about something
Anyone who knows me would tell you // unless you know me, then you know me // that I am extremely stubborn. I… I try to keep my ideals as intact as possible, because, I guess, as much as I don't like my routines to change, I don't want myself to change. There's a certain reassuring feeling to knowing that I can look at myself and recognize the girl/young woman that I've been enduring (I sound like I'm talking about someone else, right now) all these years. I am probably that control-freak (and you should know this already). Then again, hey, you know that Facebook thing where you get to see what you've posted about on the same day in prior years? It made me realize that though I can still recognize myself, I have changed. I'm somewhat less inclined to rant and talk about random things (actually I still do) anymore. I talk about them over here instead. *laughing maniacally*
Why are you wasting my time and making me read through this?!
Because I'm actually going change it as: "a book that made me think about something," just because, combined with my stubbornness and with my inability to remember many things, I just don't remember a book that recently changed my opinion on something.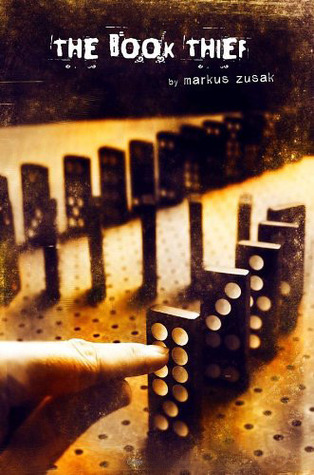 Such a book comes in the form of: The Book Thief by Markus Zusak, which, to Jolteon's surprise yesterday, she found out I had only read this year. It's not the first time you've read me gush about this "classic" or maybe it will be, but I'm telling you: I rant a lot about this book. Since we're talking about "what made me think," I won't bore you with the details of how sad it made me feel. Instead, as I mentioned in my review of the book, when I read through the book, I thought (and spoilers here, perhaps) : "Would I have helped [someone in need] to his feet after [he or she was whipped unjustly, risking the lives of my family and my own safety in the process?]? would I have argued his case? would I have been the one who handed one of [them] a loaf of bread [and, again, possibly risking my life in the process? And maybe get a beating for it?]?".
I like to think that I would have.
My idealistic side would say: Yes. I would have helped someone in need. But realistically, especially the way by which they paint the society, and the way by which I know myself to be a sheep among sheep, I think that I would not. Fearful of the views of society and fearful of the consequences of my actions, I would not be able to do a simple act of kindness that could result in my death.
Is it courageous to move forward and live on, teaching the right way of thinking to your children when you've been a coward at doing the right thing, or is it better to be beaten for what you believe in and possibly die? Maybe my idealistic side and my realistic side are clashing here, and that there's a third option that would make things easier, but yeah, this book really made me think about how I view myself as an altruistic person, and how I would realistically react. If I could, again, I would like to think that I'd try to do the right thing. I'm still learning though, and let's hope that, when the times come to it, I can do it.
---
With all of this being said,
I'm going to have to go to bed now,
I'll see you all tomorrow!

 Ponyta's out!